Voedselveiligheid. Essentieel om consumenten te beschermen tegen ziekmakers en andere schadelijke stoffen. Om de risico's voor voedselverwerkende en farmaceutische bedrijven zoveel mogelijk te beperken en aan de steeds hogere hygiëne- en veiligheidseisen van voedselveiligheid te voldoen, levert Portex Holland speciale 'food grade' en 'pharma' big bags.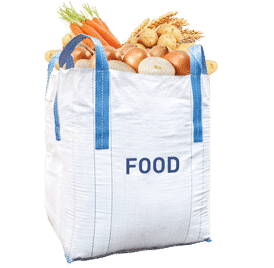 ONONTBEERLIJK IN DE VOEDSEL & FARMA LOGISTIEK
Onze food grade en pharma big bags worden met name gebruikt voor transport, opslag en vervoer van producten en grondstoffen in de voedings-, chemische en farmaceutische industrie. Ze zijn vervaardigd uit 100% polypropyleen – al dan niet voorzien van LDPE-binnenzak (liner) – en worden geproduceerd volgende de strengste (internationale) voedselveiligheidsrichtlijnen:
HACCP, BRC, AIB, ISO 22000:2005
GECERTIFICEERDE PRODUCTIE & OPSLAG
De food grade en pharma big bags van Portex Holland zijn een belangrijke schakel in de logistieke keten van voedsel- en farma producten. Om die reden worden al deze FIBC's – door hightech en ultrasone apparatuur – in een zogenaamde 'cleanroom' geproduceerd. De zakken worden vervolgens volledig en grondig gereinigd door middel van metaaldetectie en speciale schoonmaakprocessen. Alles om losse draadjes, kleine deeltjes of besmetting te voorkomen.
Na een uitgebreide kwaliteitscontrole – conform de hoogste normen én de gewenste specificaties van de klant – worden de zakken verpakt en met pallets stofvrij getransporteerd naar ons hygiënische food grade magazijn in Ermelo.
ULTIEM KWALITEITSMANAGEMENT
Het proces rond het fabriceren, vervoeren en opslaan van food grade big bags, vergt – naast gespecialiseerde apparatuur, opslag en vervoer – ook de nodige skills van onze medewerkers en leveranciers. In combinatie met een doorlopende kwaliteitscontrole, vormen deze elementen dé basis voor een continue verbetering voor de fabricage en verwerking van onze food grade big bags. Vanzelfsprekend volgens de hoogste normen.
Onze voedingsgeschikte big bags worden geleverd in volgende uitvoeringen:
Met vulslurf
Met vulslurf en losslurf
Met of zonder vulschort
Standaard, vormstabiel (Q-bag)
Gecoat of ongecoat
Met of zonder LDPE-liner
Stofdicht
Antistatisch
Standaard (wit) of gekleurd gewoven doek
Bedrukt of onbedrukt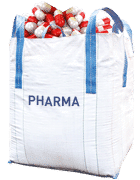 VANDAAG BESTELD, MORGEN IN HUIS
Portex Holland levert standaard big bags uit voorraad binnen één tot twee werkdagen. Bestel uw food grade big bags of pharma big bags direct online of stel uw eigen big bag op maat samen!
Food grade en pharma big bags van Portex Holland. Betrouwbaar. Veilig. Robuust.